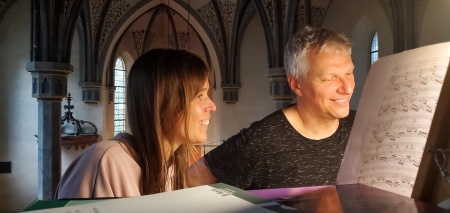 Lilly Joel Plays The Organ
Lilly Joel Plays The Organ - "Sibyl Of The Rhine"
Lynn Cassiers: voice and electronics
Jozef Dumoulin: pipe organ
Lynn Cassiers and Jozef Dumoulin have been making music together since over 20 years. But it's a vast and fascinating list of unrelated events that brought them to make this recording, featuring the music of 12th century sage and mystic Hildegard von Bingen in a setup of voice with electronics accompanied by pipe organ. Yet it feels like an unexpected and vibrant evidence - coming home somewhere else.
The music of Hildegard von Bingen is essentially monodic, made to be performed by a voice and maybe one fixed pedal note played by an instrument. A big part of the work has been to find the right approach and tone for this setup. To see how this melodies resonate today and what they call for, inventing spaces where they can unfold simply. Improvisation played a key role in this process; listening, feeling, dreaming. 
A tune of Robert Schumann and Tom Jobim have been added to enhance and stabilise the colours that presented themselves.
The result - "Sibyl Of The Rhine" - is an object of a mesmerising beauty, made to be heard over and over. But it's also a clear blueprint and a powerful source for further live reenactments.
Released on December 2nd 2022 on Sub Rosa